What does my cash donation support?
Scholarship Fund for riders who would greatly benefit from lessons but whose families cannot afford the lesson fees. Money will be handled and allocated as deemed appropriate by our board of directors either to current students, past students who had to quit due to finances or to families who request funding.
Health care for our horses, horses cost quite a bit and these funds will go to support basic medical care. Horses need to be seen by a vet for dental, vaccinations and general wellness yearly, this appointment costs around $300. Jada requires shoes every 8 weeks which costs $80 each time or $520 per year.. We would like to provide our horses with massage and/or chiropractic work on a regular basis, these appointments cost $50-100. 
Other ways to donate:
New or gently used tack. Do you have tack lying around that is never used? Donate it to us. If we can't use it in our program we will sell it and the proceeds will go to fund our programs. 
Sign your company up for employee giving. Did you know that many large companies offer employee giving campaigns where the company will match an employee's tax deductible donation? Major companies that offer this are Microsoft, Boeing, Ebay, Nordstroms and more! Check if your company has a program.
How can I donate?
Through our Paypal 'make a donation' button! You do not have to have a Paypal account, you can use any major credit/debit card.
Send us a check!
Email or call to schedule a time to drop off tack!
Empowering Strides is a
501(c)3 non-profit organization.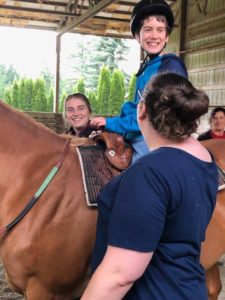 Have Questions Or Ready To Schedule A Lesson?