Laura Gorcester
Founder and Instructor Laura Gorcester has always had a passion for horses. When Laura was eight years old she graduated from pony rides to horseback riding lessons. Over the past sixteen years, Laura hasn't been able to get enough of riding or horses! She has ridden hunter/jumper, dressage, and even western pleasure. Although currently without her own horse, Laura spends plenty of time in the saddle.
In March of 2015, Laura was offered a teaching position at a local facility that focuses on teaching children to ride who need extra attention. During this time Laura started her certification process to become a registered therapeutic riding instructor through The Professional Association of Therapeutic Horsemanship International (PATH). For six weeks during the summer Laura worked and taught under the guidance of a mentor from Little Bit Therapeutic Riding Center. In August of 2015 Laura was granted her certification as a PATH registered level therapeutic riding instructor.
Laura's Experience
Laura has had the opportunity to work in various barns and with several trainers around the greater Seattle area, learning a vast array of equine knowledge. Learning by watching, Laura has spent numerous hours at horse shows, at clinics, watching others ride and even watching competitions online. Every day spent in the barn can bring a new piece of knowledge, from riding to horse care, there is always something new to learn.
As well, Laura had the opportunity to volunteer with Hope For Horses, a local non-profit equine rescue. During her time with HFH Laura worked in the office, managing volunteers, planning fundraisers and teaching Equine Cruelty Investigations courses to law enforcement officers throughout the Pacific North West. This was an invaluable experience in horse care and running a business.
The Horses
Over the years Laura has owned three horses. Her first love was a gorgeous chestnut/flaxen warmblood gelding named Gretzky. Gretzky took Laura from crossbars to solid fences and her first shows in both hunters and dressage. Laura and her mom owned Gretzky for ten years until the day he passed away at twenty-five. Gretzky was a little girls dream horse, they rode through Bridle Trails together, showed with the Lake Washington Saddle Club and had many bareback play days.
Hawkeye came to Laura out of a bad living situation, he lived in a backyard in North Bend, WA with a horse friend and two cows. Immediately Hawkeye needed medical attention for intestinal parasites, hoof care and dental care. Laura spent several months rehabbing Hawkeye and getting him fit again. Hawkeye went on to live a great life in Enumclaw where he still resides offering trail rides. In summer of 2014 Laura went to visit Hawkeye and took him out for a trail ride, my how he has grown up! He is a great, mellow and sure footed trail companion.
Deputy Aaron aka: Piper raced at Emerald Downs and Portland Meadows. Laura spent four years with Piper teaching him to jump and basic dressage. Piper enjoyed jumping, trail rides and being pampered. He won Laura many ribbons at his first schooling shows. Piper was a character, always keeping his two legged caretakers on their toes. Piper currently is living the good life in Cle Elum.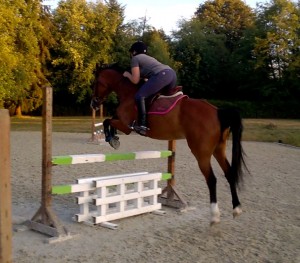 Above: Laura jumping at Farpoint Farm
Below: Laura and Gretzky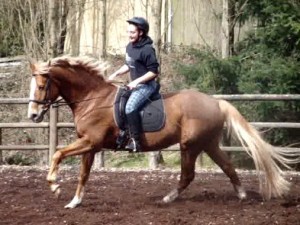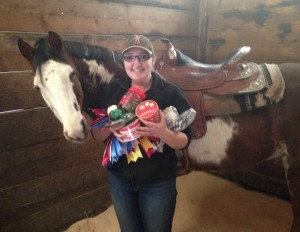 Above: Laura and Fred winning High Point at Donida Farms
Have Questions Or Ready To Schedule A Lesson?